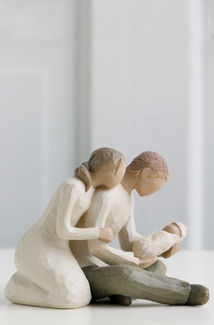 Willow Tree- New Life
Regular price $164.99 Sale
Celebrating the miracle of new life.
"Willow Tree is a reminder of someone we want to keep close, or a memory we want to touch... I like for the viewer to become a participant in the understanding of the piece. It makes it more personal for the giver and the receiver to envision what or whom they want. Susan Lordi
A gift to celebrate new beginnings, new babies, new families and the loving relationships that develop between parent and child, grandparent and child.
About Willow Tree
Willow Tree sculptural art forms beautifully express love, closeness, healing, courage, hope all the emotions of a life well lived. Artist Susan Lordi hand carves the original of each figure from her studio in Kansas City Missouri. Pieces are cast from her original carvings, and individually painted by hand. Expression is revealed through gestures only a tilt of the head, placement of the hands, a turn of the body. The simplicity of form and absence of facial features signify Willow Tree. It is Susan's hope that these pieces be meaningful to both giver and receiver.