Rosie's Gifts - Where Thoughtful Treasures Await
Step into the enchanting world of Rosie's Gifts- a renowned gift shop New Zealand, where wonder and charm await at every turn. Uncover a treasure trove of extraordinary finds, from elegant Homeware for elevating your space, to sophisticated gifts for him for surprising the best man in your life. Immerse yourself in the beauty of Art & Sculptures that inspire and captivate. Also, we have the latest Fashion Accessories to add a touch of glamour. At Rosie's Gifts, we curate each item with love and care, bringing joy and magic to your gifting experience. Embark on a journey of thoughtful and inspired shopping at Rosies Gifts. Start exploring now!
new @ rosies
Your gateway to the latest additions to our exquisite collection. Prepare to be dazzled as we unveil an array of captivating treasures, carefully curated to elevate your experience. From homeware to captivating Art & Sculptures, our latest arrivals are bound to spark joy and delight. Stay ahead of the gifting game and explore the magic of ROSIES GIFTS today!
BAGS
Discover a captivating range of bags that combine style and versatility, designed to elevate your everyday experiences. From the laid-back coastal charm of the Waiheke bag to the chic and modern Whangamata bag, each piece tells a unique story that reflects your individuality. Embrace the timeless elegance of the Devon Leather bag or opt for the spacious and trendy Large Tote Bag, perfect for carrying all your essentials in style. Our collection encompasses a treasure trove of designs to suit every taste and occasion.
Baby & Child
Take a look at our charming collection, featuring cuddly companions like Hedgehog warmies and Blue Bunny warmies, perfect for bringing comfort and joy to little ones. Dive into the magical world of Sploshkins, where imagination knows no bounds, and let your child's creativity flourish. For toddlers, we have the enchanting Snuggups, providing endless hugs and playtime fun. Each item in our selection is thoughtfully chosen to spread smiles and create treasured memories.
Discover What Makes Us Truly Extraordinary!
At Rosie's Gifts- NZ Gift Shop, we pride ourselves on being more than just a regular gift store. What sets us apart from the rest is our unwavering commitment to curating a truly enchanting collection of gifts that evoke emotions and spark joy. Our handpicked selection is thoughtfully chosen to offer a diverse range of products, from exquisite Gift and Homeware to luxurious Bath & Body essentials and trendy Fashion & Accessories. We take special care to cater to everyone's taste and preferences, ensuring that each gift is a unique and cherished treasure. With our attention to detail and dedication to creating magical gifting experiences, we stand out as a haven for finding meaningful presents that leave a lasting impression. Come, explore the wonder of thoughtful gifting with us, and discover what makes Rosie's Gifts truly extraordinary.
Choose Rosie's Gifts For Unforgettable Experience
Handpicked And Unique Items
At Rosies Gifts, every item in our selection is carefully handpicked, ensuring that each gift is unique, meaningful, and crafted to spread joy. Whether you're looking for elegant HomeWare to add sophistication to your living space, captivating Art & Sculptures that inspire wonder, luxurious Bath & Body essentials for indulgence, or trendy Fashion & Accessories to elevate your style, we have you covered. Our range also includes a delightful array of gifts for babies and children, including cuddly companions like Hedgehog warmies and Blue Bunny warmies, as well as imaginative toys like Sploshkins and Snuggups Toddler.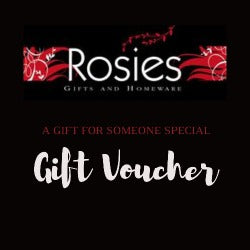 Exceptional Customer Service
Our commitment to excellence extends beyond the products we offer. We take pride in our exceptional customer service, ensuring that every interaction with Rosie's Gifts is a delightful experience. Our team is dedicated to helping you find the perfect gift, providing personalized recommendations, and ensuring that your orders are handled with care and attention.