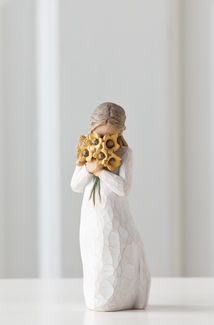 Willow Tree- Warm Embrace
Regular price $79.99 Sale
Surrounded by the warmth of family and friends.
"Warm Embrace is about what fills our senses in the summer—the feel of sunshine on your skin, the smell of freshly mown grass, the sound of insects, the taste of home-grown tomatoes—all that comes with summer. A warm embrace by family and friends can somehow, magically, provide these same sensations... no matter what time of year." —Susan Lordi
About Willow Tree
Willow Tree sculptural art forms beautifully express love, closeness, healing, courage, hope… all the emotions of a life well lived. Artist Susan Lordi hand carves the original of each figure from her studio in Kansas City Missouri. Pieces are cast from her original carvings, and individually painted by hand. Expression is revealed through gestures only… a tilt of the head, placement of the hands, a turn of the body. The simplicity of form and absence of facial features signify Willow Tree. It is Susan's hope that these pieces be meaningful to both giver and receiver.