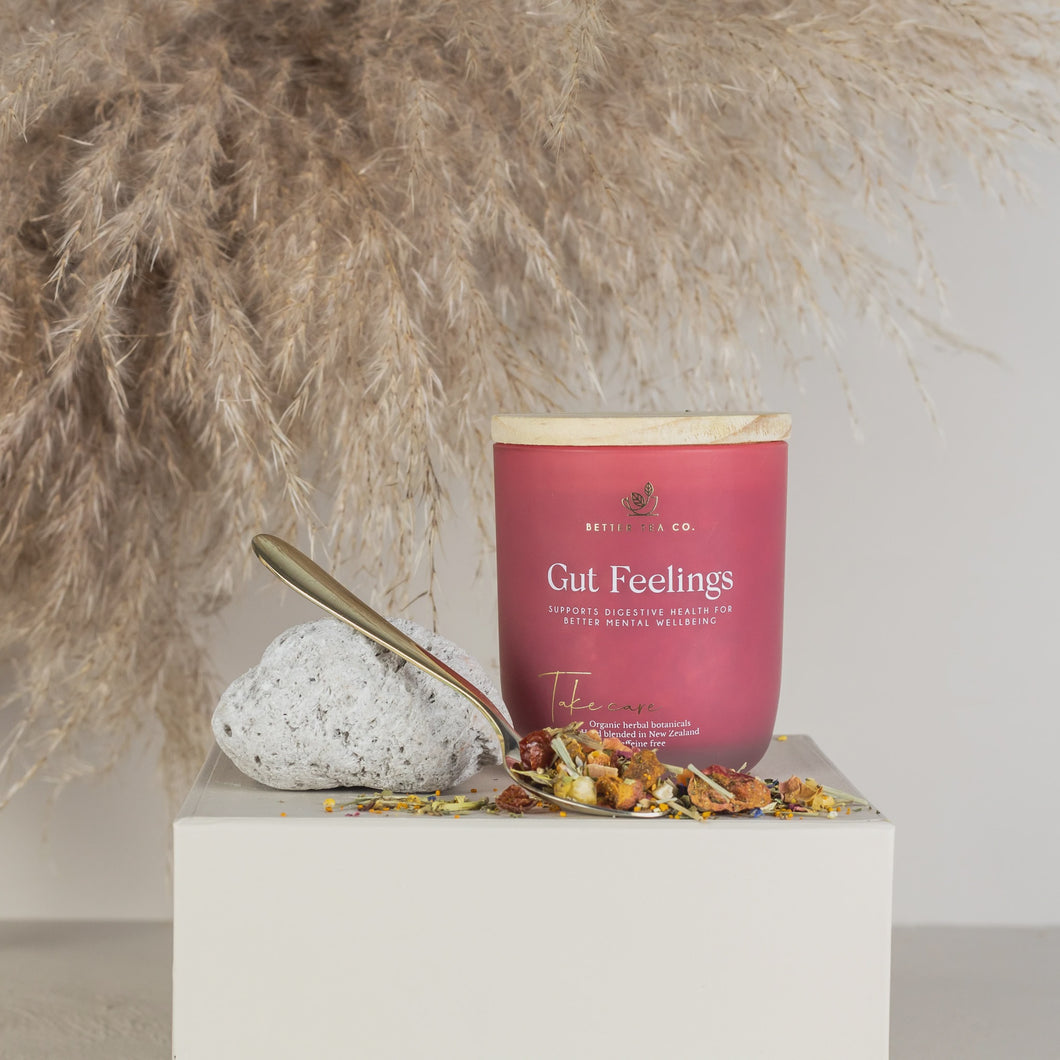 Gut Feelings Herbal Tea 100g Jar
Regular price $43.00 Sale
Gut Feelings is a powerful yet gentle blend of herbs specially formulated to support digestive health, and as a result our mental health, in a delicious and flavorful way. 
Warming spices such as turmeric and ginger have been delicately blended in this herbal tea with lemongrass, pineapple and field horsetail to help rebuild wellness from within. 
Accented with a sweet melody of petals from roses, daisies, cornflower and lavender will have you feeling radiant and well-digested.
Artfully handcrafted to enhance its mellow, soothing floral flavor, this powerhouse of tea is blended with your health and wellness in mind.
Try it anytime throughout the day, with a book before bedtime, or following a restorative meditation practice. Enjoy over ice to make a refreshing summer favorite.
This luxury glass jar is a stunning keepsake vessel that will look gorgeous on your countertop.
Includes Gut Feelings tea.
Turmeric, Ginger, Papaya, Pineapple, Lemongrass, Yarrow, Ladies Mantle, Field Horsetail, Apple, Nettle, Aloe Vera, Daisy petals, Rose, Lavender, Cranberry, Cornflower petals.
Ingredients are sourced from small-scale cooperatives all around the world, then blended and packed by hand in our Auckland kitchen.
Caffeine free. Gluten free. No added sugars. Check ingredients for known allergies or over-sensitivity. This product is not intended to diagnose, treat, cure or prevent any disease. For medical advice please seek the guidance of a qualified medical practitioner before using.
Serve: Straight black. Drink one to two cups throughout the day or when needed. 
Measure: 1 heaped teaspoon (1g) per cup (250ml) 
Brewing time: 5 to 7 minutes 
Iced: Brew straight and pour over ice, add local honey to taste