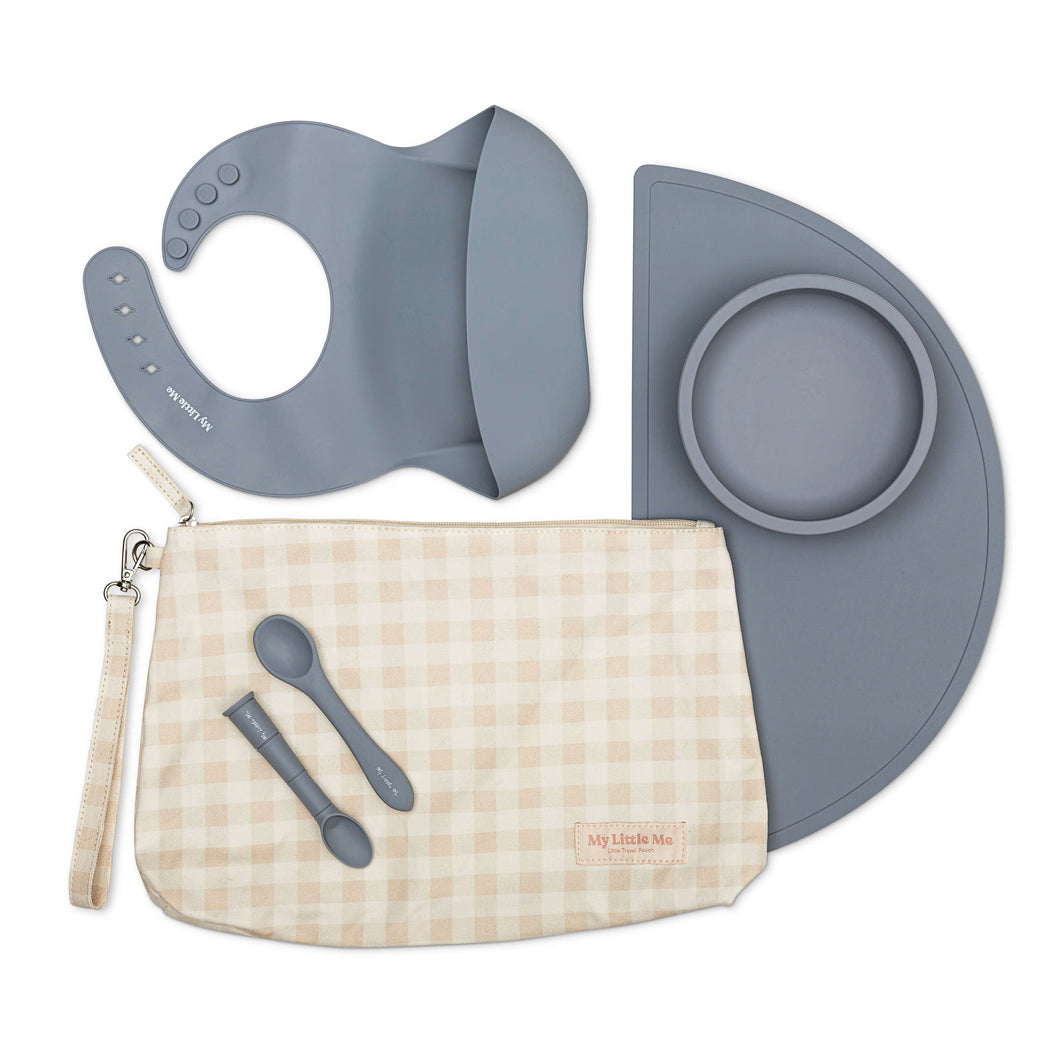 Beginners Travel Pouch
Regular price $80.00 Sale
Little Travel Pouch - Beginner Set
Introducing our convenient and stylish Little Travel Pouch – Beginner Set, designed to make mealtime with your little one a breeze.
Carefully curated for the earlier stages of your baby's solids journey (around 6-24 months), our "Beginner" set includes all the essential dinnerware items your little love needs. It's not only practical but also makes an exquisite baby shower gift.
Stay organised and prepared for every adventure with your little one. Our Little Travel Pouch is the perfect companion, allowing you to pack your favourite My Little Me dinnerware, snacks, and other essentials. The Beginner Set provides all the dinnerware you need for a meal out, reducing mess and ensuring a clean and hygienic feeding experience for your little love.
What's included:
Little Travel Pouch: Our organic cotton canvas pouch is specifically designed to carry your favourite dinnerware items, snacks, and other essentials. With its generous size, water-resistant lining, and convenient wrist strap, it's perfect for life's daily adventures. The beautiful gingham print, adds a touch of contemporary style for the modern Mama.
Silicone Bib: Keep your little one's outfit clean and catch all the mess with our silicone bib, designed to make mealtime less messy and more enjoyable.
Suction Plate + Spoon: Versatile and functional, our suction plate can be used as a bowl or plate, adapting to whatever meal is served. Paired with the accompanying spoon, it's the ideal combination for your little babe.
Small Placemat: Ensure a clean and hygienic surface for your little one when sitting in a highchair. Our small placemats fit most highchairs, providing a convenient solution for mealtime on the go.
Starter Spoon: Our popular starter spoon is gentle on little gums, featuring an easy-to-grip handle and a narrow tip for small mouths.
Care and Use Instructions:
Travel Pouch:
For easy cleaning, simply gentle machine or hand wash.
Remember to remove the strap before washing.
After washing, line dry the pouch in the shade. Do not tumble dry.
The dimensions of the pouch are 34cm x 20cm, providing ample space for your essentials.
Silicone Products:
Easy to wipe clean or dishwasher safe.
Avoid using sharp utensils.
Always supervise your child while using this product.