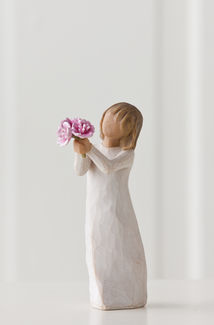 Willow Tree- Thank You
Regular price $82.50 Sale
So appreciative of all you do!
"'Thank You' is an expression we use daily from an impersonal quick comment to a more heart-felt appreciation of support from parents, family, friends, teachers, volunteers. I hope this piece can be used for all those circumstances when you want to say 'Thank You'. The gesture of the figure, leaning forward, is an offer of gratitude and hospitality. The flowers are classic, timeless peonies, which release a beautiful fragrance, and whose lifecycle can span generations. Susan Lordi
A gift to express appreciation and thankfulness for teachers, volunteers, donors, caregivers, friends or for those who love flowers!
About Willow Tree
Willow Tree sculptural art forms beautifully express love, closeness, healing, courage, hope all the emotions of a life well lived. Artist Susan Lordi hand carves the original of each figure from her studio in Kansas City Missouri. Pieces are cast from her original carvings, and individually painted by hand. Expression is revealed through gestures only a tilt of the head, placement of the hands, a turn of the body. The simplicity of form and absence of facial features signify Willow Tree. It is Susan's hope that these pieces be meaningful to both giver and receiver.