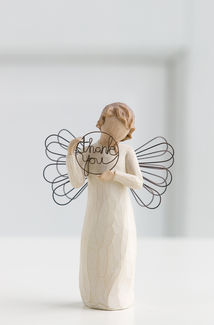 Willow Tree- Just For You
Regular price $82.00 Sale
With sincere thanks.
Willow Tree angels resonate with many cultures and ages of people. To some they represent protection, to some they are an outward reminder of inner peace, and to some they represent a way to remember those who have left this earth.
A gift to express appreciation and thankfulness for teachers, volunteers, donors, caregivers, friends
About Willow Tree
Willow Tree sculptural art forms beautifully express love, closeness, healing, courage, hope all the emotions of a life well lived. Artist Susan Lordi hand carves the original of each figure from her studio in Kansas City Missouri. Pieces are cast from her original carvings, and individually painted by hand. Expression is revealed through gestures only a tilt of the head, placement of the hands, a turn of the body. The simplicity of form and absence of facial features signify Willow Tree. It is Susan's hope that these pieces be meaningful to both giver and receiver.